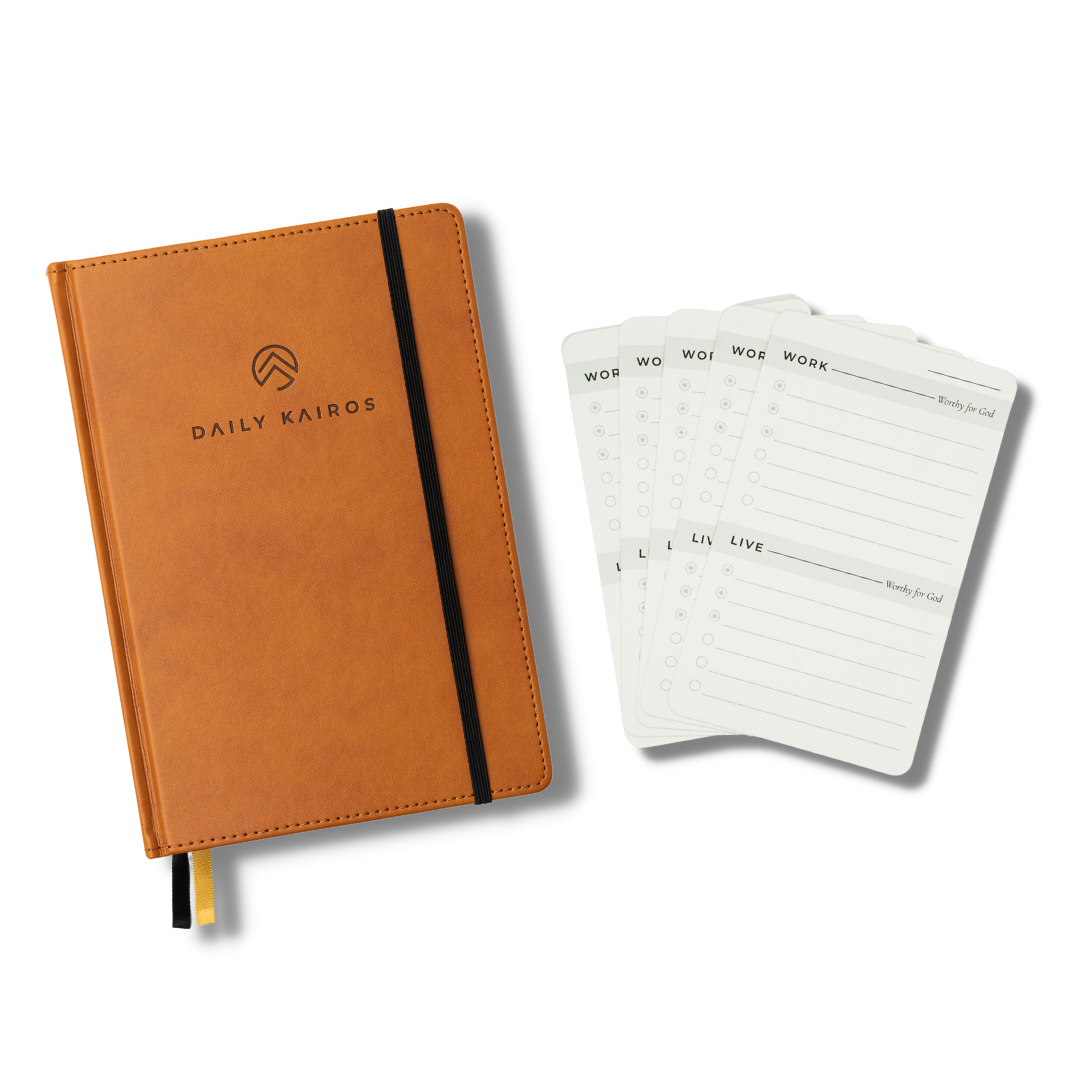 Fresh Start Bundles
Recommit to growing in your faith and prioritizing your prayer life with our Fresh Start Bundles. 
Bundles include:
Daily Kairos Prayer Journal

- our best-selling daily prayer journal designed with Scripture & habit-forming psychology in mind to help you spend more quality time with God every day

LIVEWORTHY Productivity Deck

 (31 days each) - a simple tool to help you prioritize the daily tasks God has called you to do, while remaining focused on Him all throughout your day.

Premium Wooden Cardholder - 

the perfect accessory for your LIVEWORTHY productivity cards; made out of Black Walnut and displays your daily card vertically or horizontally, while storing the rest of your cards in the base.
Ready for a fresh start?
Learn more about our best-selling products that are helping 25,000+ busy Christians draw closer to God, daily.

The Daily Kairos Journal
The Kairos Journal is helping busy Christians break free from busyness & distractions, one day at a time. Our best-selling journal was thoughtfully and prayerfully designed to help you filter out the noise and meaningfully connect with God.
Available in multiple colors and includes 3 months of Daily Spreads, Weekly Reflections, & Prayer Resources to encourage you as you seek to draw closer to God each day.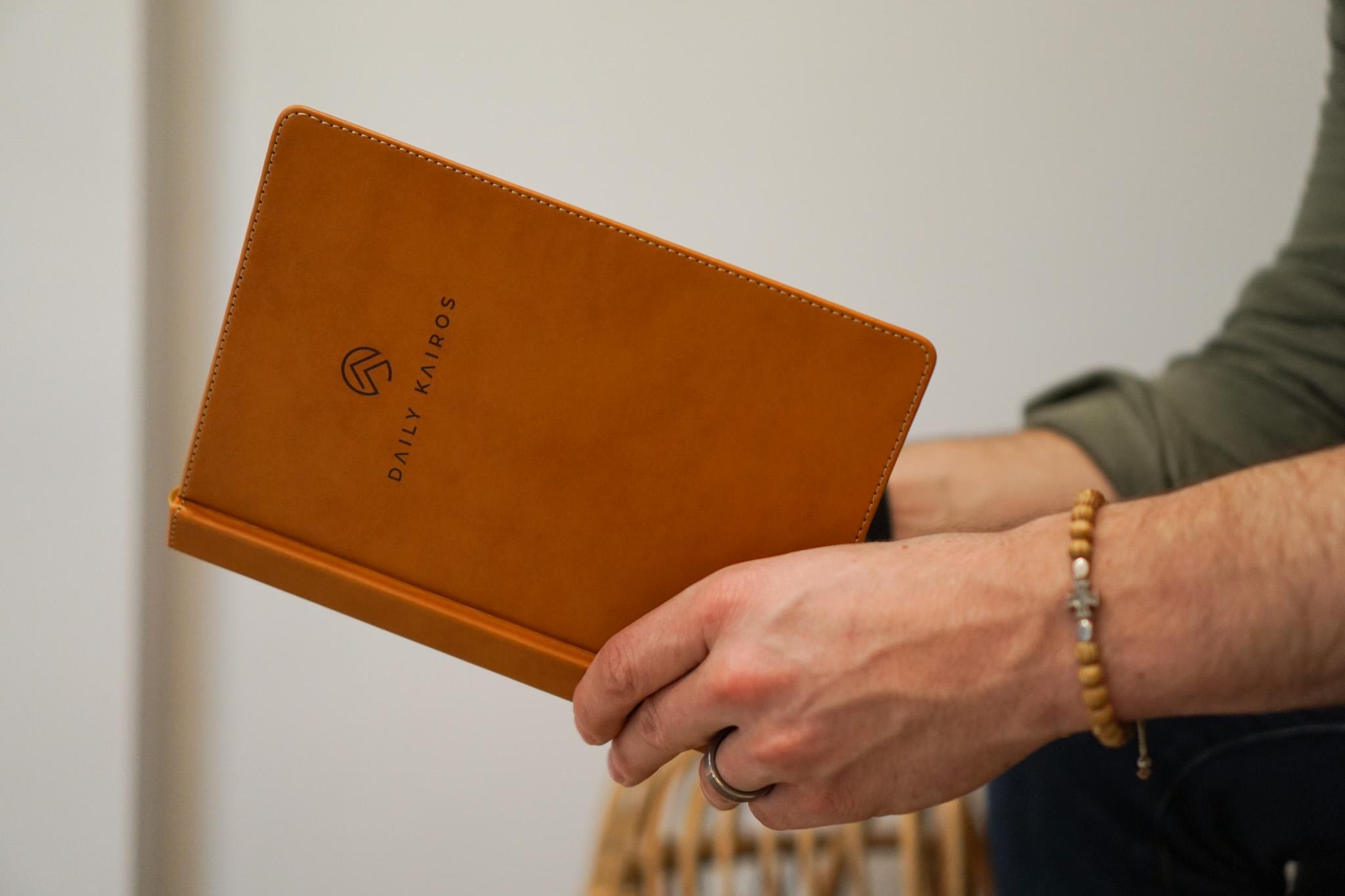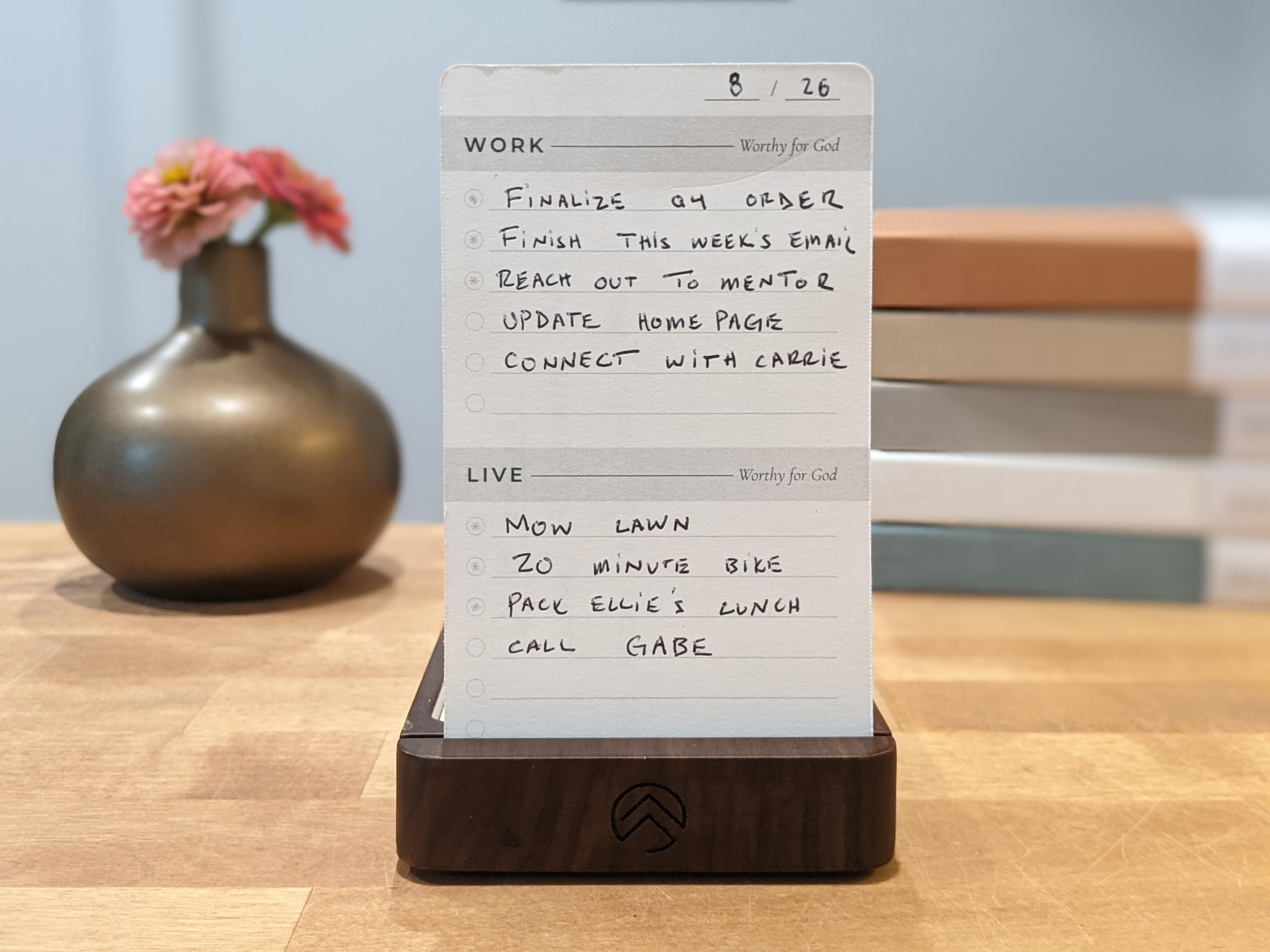 LIVEWORTHY Productivity Deck
In Ephesians 4:1, Paul urges us to "live a life worthy of the calling" we have received. We believe living this way means putting God at the center of it all - even our To Do lists.
Keep first things first by prioritizing your most important tasks for the day, both in your work and your life.  Each card has two task sections: Work & Life, along with 3 starred lines to prioritize your most important goals for the day.
On the other side of the card is space to write down a verse you'd like to meditate on throughout the day - as well as three small reminders to pray and meditate so you can keep your mind on God's Word!
Premium Wooden Cardholder
This wooden cardholder is the perfect accessory for your LIVEWORTHY Productivity cards. Take on the go or leave on your desk so you can see your most important tasks (or meditation verse!) all day long.
Made out of Black Walnut and stores one full pack of LIVEWORTHY Cards and allows you to display one card at a time either vertically or horizontally.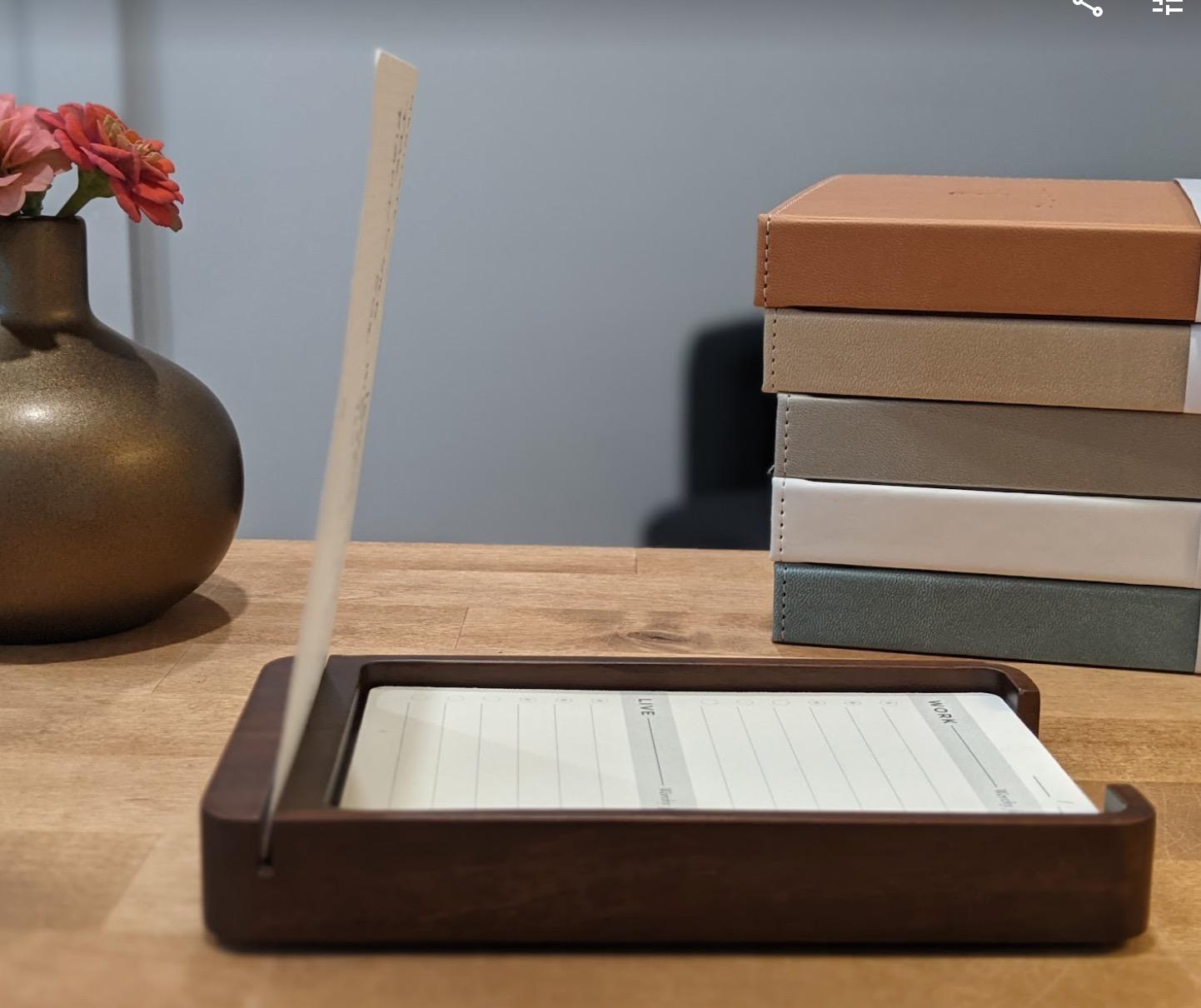 What are people saying about the Kairos Journal?
Over 25,000 Christians are using the Kairos Journal to deepen their prayer life

★ ★ ★ ★ ★
"This journal has been exactly what I hoped for! As a guy that has struggled to develop a consistent prayer journaling habit for a while, this is a God send! It makes it so easy for me with the guided sections. I highly recommend!!"
- John P.
★ ★ ★ ★ ★
"This journal is not only a game changer, it's definitely THE life changer! There has been nothing else in my Christian walk, 31 years now, that has changed my relationship with God as much."
- Lynnette H.
★ ★ ★ ★ ★
"It is the perfect complement to my daily Bible studying and really makes me slow down and write out my thoughts and prayers. It helps me to really listen for the Lord and seek out his Word throughout the day. In the last few weeks of writing in my Daily Kairos journal, I've seen and heard things from the Lord that I probably would have never noticed before. Thank you for an amazing tool that is helping draw me closer to the Lord than ever before!"
- Cole S.
★ ★ ★ ★ ★
"My wife and I are loving our Daily Kairos Journals. As a pastor, it is easy for me to skip personal devotional time and try to replace it with sermon prep. But the two are not the same. This journal gives me a visual reminder of my need for quiet time with God. It's simple layout cuts to the chase and makes devotional time meaningful. I highly encourage you pick one up and try it yourself!"
- Darren J.